Contact Details
198 Queens Promenade
Blackpool
Lancashire
FY2 9HP
Gradings
4 Visit England Stars Self Catering

Awards
Sub-Regional Awards

Lancashire Tourism Awards Finalist

2015

Sub-Regional Awards

Lancashire Tourism Awards Finalist 2017 - Self-Catering Holiday Award

2017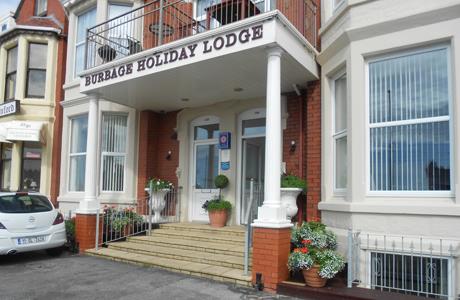 Burbage Holiday Group in Blackpool comprises the Burbage Holiday Lodge and the Queens Mansions. These stunning self catering properties have a first class reputation for pin-sharp quality and comfort and obsessive cleanliness, with FREE allocated parking.

The multi award winning Burbage Lodge was Blackpool's first 4-star apartments. Now we have the first 5-star wheelchair accessible apartment in Blackpool.

From the penthouse suite, a 3-bedroom family apartment with its own balcony to a small family apartment and a doggy friendly with its own entrance...Burbage Lodge has everything and more!

We are ideally situated at the north end of town on the select Queens Promenade, within easy reach of Blackpool's nightlife.

The Queens Mansions has 13 apartments with 1, 2 and 3 bedrooms. There is a 2-bedroom apartment suitable for the walking-disabled guests. Ten of the apartments have the finest sea views on the coast. There is a lift to all floors and gauranteed guest parking make the Queens Mansions the perfect place for a fuss-free, luxury break.

The Queens Mansions also boasts four unique fully featured Penthouse suites offering from 1 to 3 bedrooms where you can relax in luxurious 5-Star surroundings.

All apartments are NON-SMOKING. However there are balconies in Queens Mansions where smoking is allowed.